Pricing Section
 
 The work of this section assimilates to upgrade the production of the company through increasing the assigned projects, this forms true by hard and wide follow up with the employees as shown below:
1 – Buying bids or receiving direct invitation addressed to our company. Preparing all the documents needed and pricing the bill of quantities, checking final prices with the related projects, submitting the tender and getting the assignment.
2 – Checking the feasibility study plan for all the works assigned to our company before starting execution.
3 – Participating in the committees (technical, bids opening …etc.).
4 - Participating in partnership contracts prepared with foreign companies.
5 – Following and watching out prices in the markets and through internet to make a database for prices.
Following, a table showing the No's of submitted and assigned bids:-
1 – Submitted and assigned bids for the years (2008-2022)
2 – Submitted and assigned bids for the year (2023) up to now
1 – Submitted and assigned bids for the years (2008-2022)
No.
Years
Number Of Submitted Bids
Iraqi Dinars Of Submitted Bids
USA Dollars Of Submitted Bids
Number Of Assigned Bids
Iraqi Dinars Of Assigned Bids
USA Dollars Of Assigned Bids
1
2008
233
2,296,169,432,422
268,856,856
17
84,574,046,025
0
2
2009
124
549,643,732,015
28,210,993
21
139,772,042,475
0
3
2010
203
2,413,608,154,277
348,796,140
16
127,384,232,500
0
4
2011
242
3,231,085,054,169
96,420,433
36
541,790,833,710
3,500,000
5
2012
188
2,226,249,430,902
65,000,000
51
324,124,222,775
0
6
2013
154
1,321,798,677,856
0
26
137,422,467,182
0
7
2014
51
585,421,229,860
0
13
294,835,813,035
0
8
2015
67
327,606,116,585
0
10
14,653,783,000
0
9
2016
50
191,100,485,800
0
7
12,655,064,300
0
10
2017
80
190,227,179,783
0
19
18,066,789,000
0
11
2018
113
300,604,427,250
0
18
21,340,404,750
0
12
2019
102
455,710,932,675
0
25
76,496,746,677
0
13
2020
21
108,155,276,600
0
4
4,979,332,000
0
14
2021
50
644,382,973,588
0
6
76,237,795,088
0
15
2022
46
276,811,191,000
0
6
22,074,087,000
0
Total
 
1724
15,118,574,294,782
807,284,422
275
1,896,407,659,517
3,500,000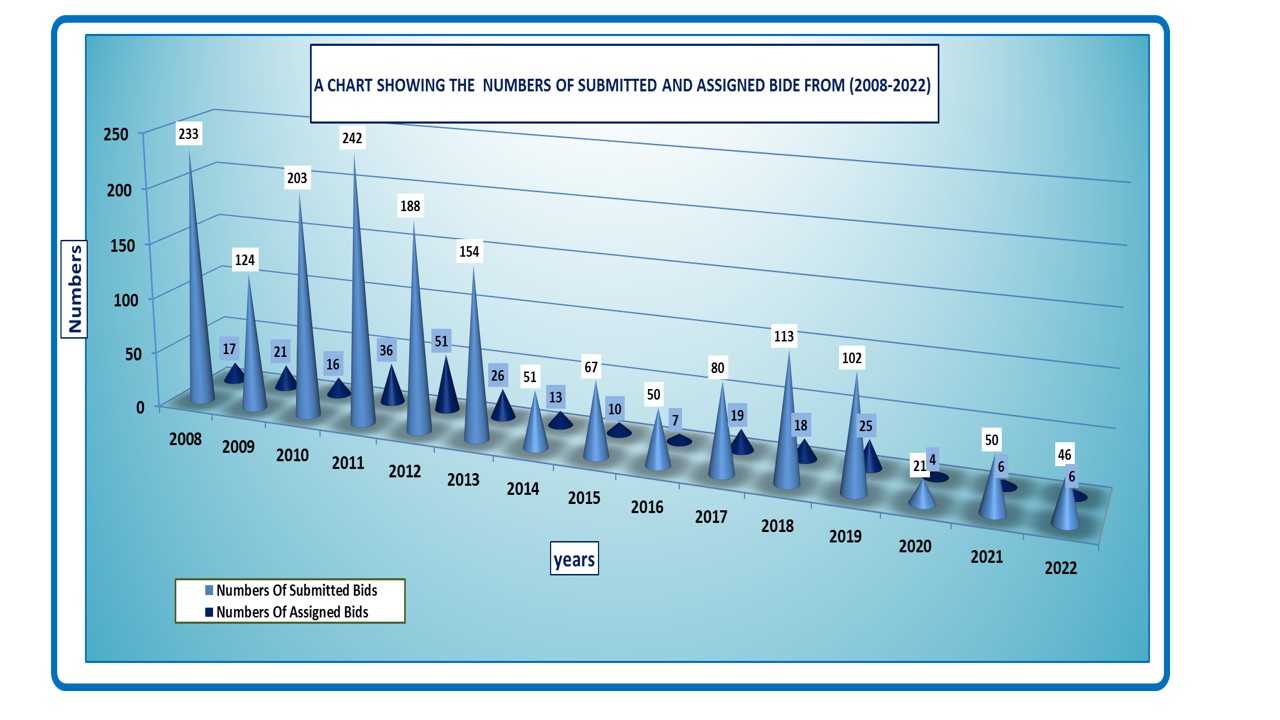 2 – Submitted and assigned bids for the year (2023) up to now
No.
Details
Number
Iraqi Dinar
1
Submitted Bids
58
216,279,457,242
2
Assigned Bids
10
85,957,092,696